Marshall named Little 4 Boys Athlete of the Year
By Ray Hamill
HumboldtSports.com
For the second straight year, a Hoopa Warrior has been named a Humboldt Sports Little 4 athlete of the year.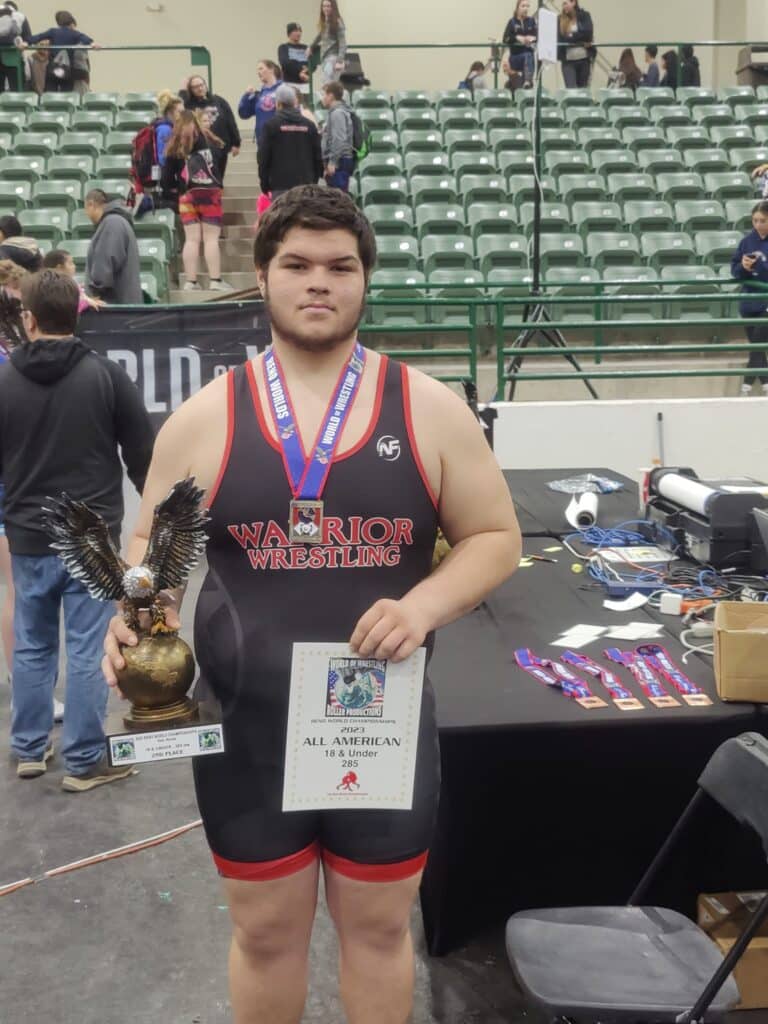 After an outstanding senior year in three different sports, Gerard Marshall is the 2023 Little 4 Boys Athlete of the Year.
He joins 2022 graduate Savannah Colegrove, who was named last year's L4 Girls Athlete of the Year before taking her talents to play softball at Mendocino College.
Marshall, who graduated this year, is coming off an outstanding career at Hoopa, where he was a standout in football, wrestling and track and field.
He was arguably the best lineman in the Little 4 in football in the fall and a true MVP for his team, consistently setting the tone for his teammates in the trenches.
He followed that with an even better winter on the wrestling mats, placing in the top-12 at the California state championships in the heavyweight division for the second straight year after winning a second straight North Coast Section championship.
He closed out a remarkable high school career with a strong spring in track and field and enjoyed a big league championship meet for the Warriors, finishing as the second best L4 thrower in the shot put and the fourth best in the discus.
Ultimately, however, it was his performances in wrestling that set him apart from the rest of the L4 this year, and few local athletes can claim to be as elite in their sport as Marshall, especially in such a competitive and challenging division as heavyweight wrestling.
Cass Bell, who has coached Marshall on the Institute of Combat club team in Arcata for the past few years, believes he has a big future as he considers his collegiate options.
And he's a big fan of Marshall the person, as much as Marshall the athlete.
"Baby G is one of the nicest, compassionate kids that I know," Bell said. "He is super loyal and a great asset to any team.
"I've been lucky enough to watch him grow from a young athlete to the amazing young man he has become, and I am grateful to have been a part of his journey.
"The future is yours, I cannot wait to see what you do next."
Marshall's high school football coach Floyd "Cowboy" Billings also has worked with the talented three-sport athlete for several years and believes he was a big difference maker for the Warriors.
"Gerard is a special player," Billings said. "He leads by example, works hard and is very coachable.
"When Gerard was on the field it made it a whole lot easier to move or stop the ball on defense."
Marshall won the Little 4 award after beating out fellow finalists Tyler Dimmick and Owen Shanahan from St. Bernard's, Kannon Christiansen and Jack Westfall from Ferndale, and South Fork's John Harding.
Two other Hoopa Warriors were named as finalists for the Humboldt Sports end-of-year awards. Senior three-sport star Tatianna Colegrove was one of two runners-up for the Little 4 Girls Athlete of the Year, which went to St. Bernard's Madelyn Shanahan, while Warriors softball head coach Ryan Colegrove was a finalist for the High School Coach of the Year.