31st Annual Sovereign Days Celebration
Everyone is more than welcome to attend this year's 31st Annual Sovereign Days Celebration in Hoopa, CA. We scheduled the Sovereign Days Friday Events for August 9th, 2019--with the first event of that day starting at 10 AM at the NF Building Lawn.
Hoopa Tribal Snapshot News
Within this section, we provide a brief look at recent Tribal News--gathered and uploaded by our Public Relations resources. If you want to read more about one of the stories below, click on the post and the article will load.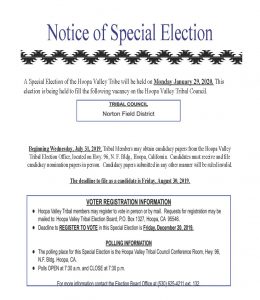 To any Hoopa Tribal members who want to run for a vacant Councilmember position, we are holding a Special Election for the Norton Field District. As of July 31st, 2019, we are accepting candidacy papers for this position at the Hoopa Tribal Election Office–located at 11860 HWY 96, NF Building, Hoopa, CA. Candidates must receive…
Read More

→
Looking for a Hoopa Tribal Phone or Fax Number?
Try one of these buttons below
Do you need a Hoopa Tribal form, application, or document?
Then follow the Forms & Documents button
We, the Hoopa Valley Tribe, are a Tribal Government dedicated to protecting and promoting the interests of the Hoopa Valley Indians, and cooperating and collaborating with Federal, State, and local Governments.
Hoopa Valley Tribe
11860 State Hwy 96
PO Box 1348
Hoopa, CA 95546
Phone: 530-625-4211
Fax: (530) 625-4594
Frequently Asked Phone Numbers
+ Hoopa Shopping Center: 530-625-1013
Copyright 2003 - 2019 The Hoopa Valley Tribe