Hoopa Valley Tribal News
On this page, you can find the Hoopa Valley Tribe's News outlets, which include the Two Rivers Tribune, the KIDE Radio Station, and the Hoopa Valley Tribal Facebook page. In detail, the blog posts below are taken from the HVT Facebook page, and further below are direct feeds to the Two Rivers Tribune and KIDE Radio Station websites; please click on the title "Two Rivers Tribune" or "KIDE Radio Station" to visit that particular webpage.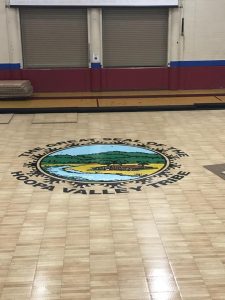 After much planning and successful efforts to raise funding, the Hoopa Recreation Department is finalizing installation on a brand new snap gym flooring for the Neighborhood Facility (NF). Everyone is…
Read More
We, the Hoopa Valley Tribe, are a Tribal Government dedicated to protecting and promoting the interests of the Hoopa Valley Indians, and cooperating and collaborating with Federal, State, and local Governments.
Hoopa Valley Tribe
11860 State Hwy 96
PO Box 1348
Hoopa, CA 95546
Phone: 530-625-4211
Fax: (530) 625-4594
Frequently Asked Phone Numbers
+ Hoopa Shopping Center: 530-625-1013
Copyright 2003 - 2019 The Hoopa Valley Tribe